Remember remember a few dates in December
23 November 2016 | By Anje Rautenbach
Summer, fun, entertainment, festivals, markets, beach days, performances, family time, shopping, sun, sand and sea are all words synonymous with December in Nelson Mandela Bay.
December is only one week away; the schools are almost closing their doors for the holidays, employees are counting down the days till the start of their vacation, Christmas trees and lights are going up everywhere and friends and families are planning to get together here and there for some summer fun.
Every year, Nelson Mandela Bay is buzzing during December with locals and visitors roaming the streets, filling the malls and enjoying the beaches… 2016 will be no different, in fact it will be better and there are more and some new things to look forward to this holiday season in the Bay.
Grab your calendar and pencil in a few dates to remember this December.
Don't forget to get a Nelson Mandela Bay Pass to enjoy everything the Bay has to offer!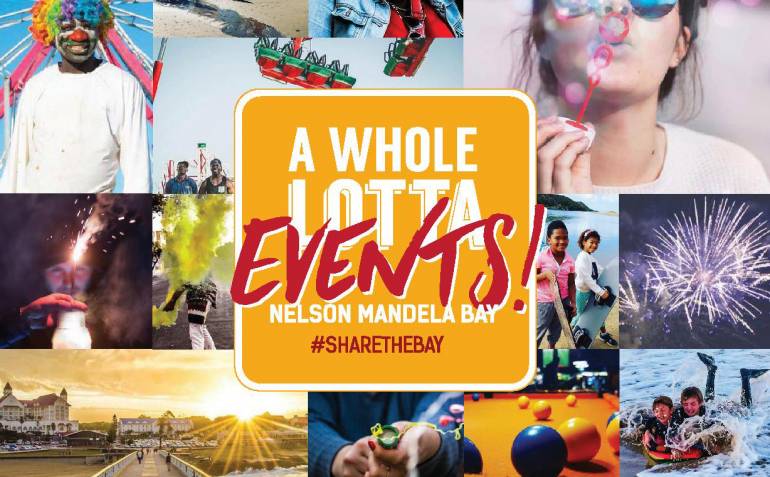 Don't miss out on this in December
29 November to 3 December - Uitenhage North Christmas Market
1-4 December - Christmas in the Home
1-17 December - Puss in Boots - The Pantomime
1-11 December - Uncle Jumbos Christmas Party
2, 9, 16, 19, 23, 30 December - Horseracing at Fairview Racecourse
2 December - Planet Ireland Irish Dance Show
2 December - Luna Paige Live at the Music Kitchen in PE
2 December - 5th Annual Drumboss Experience
3 December - Chippa United vs. Kaizer Chiefs
3 December - Valley Market
3 December - Alliance Française's Congolese Christmas Dinner
4 December - Clubfeet Market
4 December - Ulagh & Two Tone Band
4 December - Rest a while farmstall Country Market
10 December - Shake the Bay
11 December - aQuelle Ocean Racing Series
11 December - Dolphin Challenge
11 December - Carols in the Park
12-15 December - Kings Beach Holiday Club
12-14, 19-23, 27-30 December - Holiday Art Workshops
15 December - Loyisa Gold Live
16-17 December - Craft Brew and Food Fest
16 December - Opening of the Season
17 December - ChapterThree #Krismisfeelings
17 December - The Valley Christmas Market
18 December - The Port Elizabeth Christmas Expo
18 December - Ocean Rock presents Rocking the PEtunias 6
18 December - ADAM in Port Elizabeth
18 December - Christmas Carols in PE
20 December - Jay en Die Weiveld Toer
21 December - Valiant Swart en Abel Kraamsaal
21 December - SPAR Sizzling Sessions at Tramways
22 December - Radio Raps
22 December - SPAR Outdoor Cinema and Christmas Carols by Candlelight
23 December - Baakens Food Truck Friday
23 December - 4th Annual Uitenhage Picnic - Uitenhage
24 Decemer - Weird Boy Showcase Part 1
26-30 December - Sunfoil Test Match, SA vs Sri Lanka
26 December - Bobby van Jaarsveld
27 December - The Parlotones
27 December - SPAR Springs Fiesta
29 December - SPAR Sundowner at Hobie Beach
30 December - 5th Annual Ebubeleni Music Festival
31 December - SPAR New Year's Eve at Hobie Beach & Wells Estate

Featured Posts
13 December 2017 | Kerryn Botha

The festive season is just about upon us and most of us tend to let our hair down just a…

06 September 2017 | Kerryn Botha

Remo's Italian, previously Fratelli recently re-launched in Nelson Mandela Bay, and what…

01 May 2017 | Kerryn Botha

Yes, it's that time of the year again. It's time to celebrate the women who brought us…