7 Cool Campsites in the Bay
02 February 2017 | By Anje Rautenbach
There is just something about a tent (or a caravan), a camp fire and sleeping under the stars (almost) while you are surrounded by Mother Nature, loved ones and a few marshmallows on a stick.
It's therapy; you get back to the basics, bid a few luxuries farewell and switch off.
The coastline of Nelson Mandela Bay is dotted with camp sites, from those a bit more inland like Addo Elephant National Park to other stretching all the way to Van Stadens.
There are so many options!
Do you want a camp site where there is a play park for the kids? Nelson Mandela Bay got you covered!
Do you want to take your dog? Nelson Mandela Bay got you covered!
Do you want a pool, a beach or a tidal pool? Nelson Mandela Bay got you covered!
Do you want to experience high-end camping – or rather glamping - on real beds? Nelson Mandela Bay got you covered!
The weather in the Bay is still passing with flying colours and we've had the one perfect day after the other perfect day during the summer season.
Luckily there is more where that came from because we still have February, March and April before things will cool down and contrary to popular belief and the label of being the windy city, Nelson Mandela Bay is actually not the windiest city in South Africa… we are however the friendliest.
So, with perfect weather and a variety of camping grounds, what are you waiting for?
All you need is a tent (or a caravan), a mattress, some bedding, cooking utensils (that you can take from home), your personal belongings and something to throw on the braai. And if you don't have a tent or mattress, call a friend (who owns camping equipment).
Whether you are from the Bay or an out-of-towner, camping is the perfect excuse to break away from your routine and breathe in some extra fresh air.
Ready?
Set?
Camp!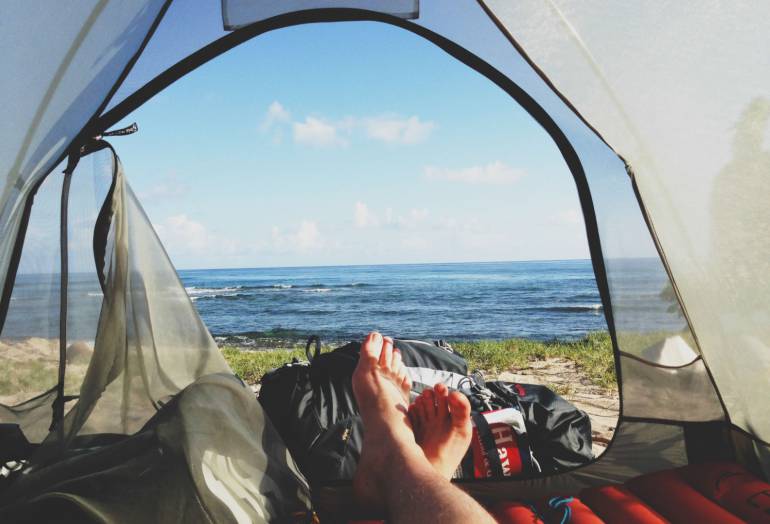 7 campsites to pitch your tent in and around the Bay
Pine Lodge Resort and Conference Centre
Pine Lodge is just a few minutes away from Nelson Mandela Bay's city centre. It is situated in the Cape Recife Nature Reserve, and from your tent you will be just a hop, skip and jump away from the ocean where sunsets, sunrises and unspoiled beauty await. The camping sites are well-grassed and visitors can also enjoy Fatbike Beach Rides, a Ziplining, hiking trails and a visit to the Cape Recife Lighthouse.


The Willow Resort and Conference Centre
Situated a mere 15 km from Port Elizabeth's beach front is Willows Resort with its rugged, rocky outcrops with rock pools, tidal pools and small beaches safe for swimming and lazing in the sun. There is also a shop, game room, a 18-hole putt-putt course and a tennis court.
Mangolds Pool Caravan Park
Mangolds Pool offers visitors panoramic sea views and beautiful camp sites with a kiddies play area, a recreation room, a tidal pool and the chance to take your furry friend with you (on prior arrangement). It's the perfect spot to wake up to the ocean air. They also offer pool tables, volleyball and hiking trails.
Van Stadens Resort
A short drive out of city will bring you to the ocean beauty of Van Stadens Resort, next to the Van Stadens River and its huge sand dunes. The 89 camp sites are well-grassed with milkwood trees providing shade for some while other sites have panoramic views. You can enjoy beach walks, a swim in the lagoon, birding, the trampolines, a play area for kids, table tennis, and at the boathouse you can hire sandboards, peddle boats, canoes and paddle skis.


Oceanview Forest Resort
Soak in nature and an 180°C ocean view at the Oceanview Forest Resort just 29 km south west of Port Elizabeth in the Seaview area where you can splash around in the pool and play darts, table tennis, volleyball, pool and enjoy hiking and mountain biking trails.
Pearson Park Resort
Head out to Sundays River to the Pearson Park Resort where there are a total of 150 spacious, grassed and shady caravan and tent sites for campers. It is a paradise for any water-based activity like canoeing, angling and cruising on the river, but it is also just 3 km from the Matyholweni Gate (South Entrance) of Addo Elephant National Park, and with other activities like sandboarding, mountain-biking and quad-biking you'll be entertained for days. You can use your Nelson Mandela Bay Pass in the Sundays River Valley.
Addo Elephant National Park
If camping under the stars with the sound of howling jackals in the background and the option to enjoy your morning coffee with a view of elephants, kudus and warthogs sounds like your idea of camping, then head to Addo Elephant National Park, less than 50 km away from Port Elizabeth's city centre. All the camp sites are equipped with power points, a wooden table and benches and visitors can enjoy a self-drive game drive through the park or go on a guided game drive. On site there is also an educational centre, a swimming pool, kiddies play area, an underground hide and a restaurant. You can use your Nelson Mandela Bay Pass at the park for a free entry and also for a zipline experience (outside the park).

Written by Anje Rautenbach, travel blogger at Going Somewhere Slowly. Follow her journeys around South Africa on Facebook, Twitter and Instagram.
Featured Posts
24 June 2019 | Anje Rautenbach

Are you looking for a bit of luxury, style and panache when it comes to travelling? While…

17 June 2019 | Eleanor Douglas-Meyers

With the school holidays and winter in full swing, the phrase; "I'm so bored" is likely to…

12 September 2018 | Anje Rautenbach

September is one busy month; it's the start of spring, there's rugby and also heritage…