In Focus: Deon Davids, the Southern Kings Coach
06 June 2018 | By Anje Rautenbach
Deon Davids has recently moved to Nelson Mandela Bay to take up the task of coaching the Southern Kings and is a highly motivated, energetic and passionate professional rugby coach, with 28 years of extensive experience. Born and bred in the Western Cape, with an honours qualification in Human Movement Studies (amongst others), Davids worked for two years as the Head Coach of a Super Rugby team and is currently in his first year as Head Coach of a Pro 14 team and has been known as a rugby coaching hero in South Africa, especially after the superb performance of the Kings in 2017.
Coaching is in his blood, and he has also extensive experience as Director of Rugby, and as Head Coach of senior Currie Cup teams, Vodacom Cup, Under-21 rugby teams, South African Rugby Academy and a University team in the Varsity Shield Competition. He also served as assistant coach of the South Africa Under-20 team, Emerging Springboks and South African Students team.
While he spends a lot of his time on the field and behind a whistle, he also enjoys exploring and discovering new places and recently went on a well-deserved getaway to the Addo region with his family.
We checked in with him and asked about his experience. This is what he had to say.
You and your family recently visited Addo and you stayed at Africanos Country Estate. How was your stay?
"Absolutely mind blowing. A world class facility with very friendly and helpful staff and excellent food."
Want to stay over at Africanos Country Estate? Click here for more information.
Of course, one can never visit Addo without visiting Addo Elephant National Park. How was your game drive experience and what was some of the highlights?
"It was fantastic. The highlight was seeing the two lions, elephants, buffaloes, and kudu. My children loved the warthogs."
Want to visit Addo Elephant National Park? Click here for more information. Keep in mind that with a Nelson Mandela Bay Pass you can enjoy a free entry to the park.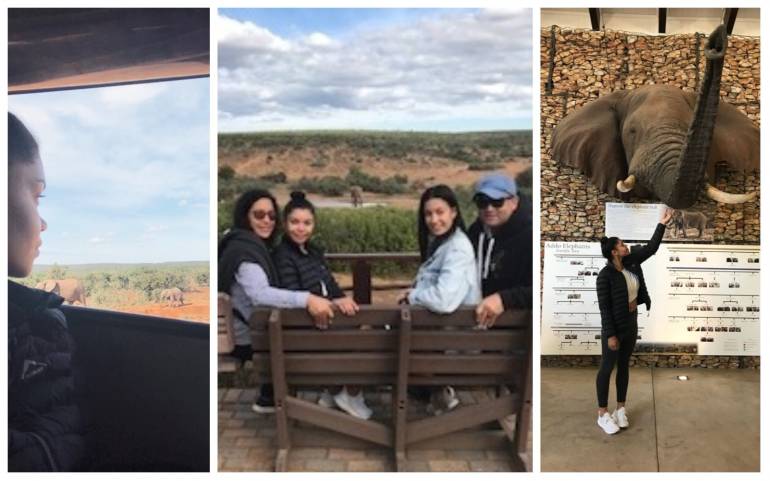 You were also up for a bit of action during your visit and went to Adrenalin Addo. Share with us what you did there and how was the experience for you and your family?
"We took a hike to the base of the zip line, and it was fun to slide down the zip line with my wife, as she is afraid of heights. It took some convincing but the guide made it very interesting and fun (I owe him a Kings jersey)."
Want to visit Adrenalin Addo? Click here for more information. Keep in mind that with a Nelson Mandela Bay Pass you can enjoy a free ziplining experience.
You're the father of two girls, how did they enjoy the getaway, anything that stood out for them?
"They enjoyed the zip line and the safari. It was my youngest daughter's birthday, so she enjoyed every bit. The restaurant staff also made it very special for her with a surprise dessert."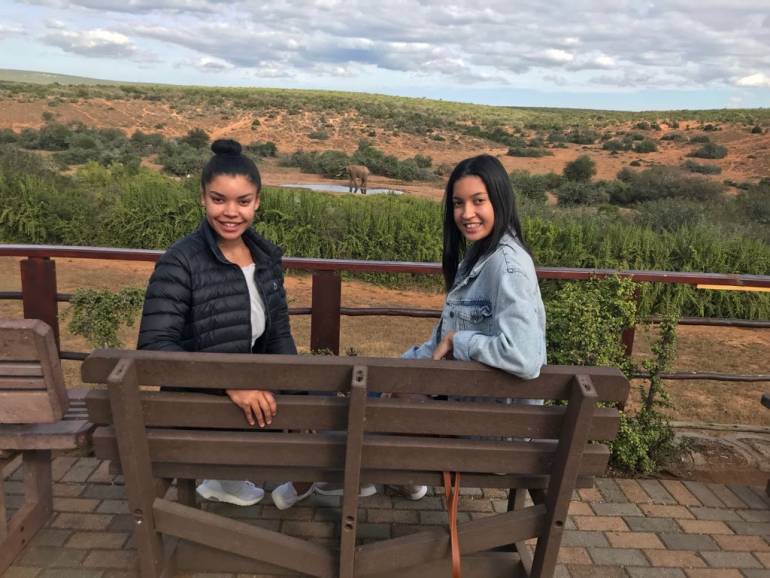 If you had to sum up your whole Addo trip in five words or less, what would you say?
"A must to experience."
Besides Addo - and besides the stadium - are there any other places in Nelson Mandela you enjoy visiting?
"My family only moved here in December, so we are about to experience more of Port Elizabeth and the surroundings in Nelson Mandela Bay. However, to date we enjoyed driving to the different beaches and visiting fantastic restaurants."
Do you have any bucket list places or activities in the Bay you still want to visit and experience?
"My daughters still want to do parasailing, sandboarding, scuba diving, shark cage diving and bungee jumping. Personally I hope to find time to watch a music performance of local boy Patrick Lindoor, whose music I enjoyed listening to in the eighties."
What about restaurants, do you have a few Bay favourites?
"I think Port Elizabeth do have many fantastic restaurants with beautiful views of the sea. My favourite restaurant was, For The Love Of Wine in Stanley Street, who sadly closed its doors. I also enjoy The Royal Delhi, De Kelder, The Hussar Grill, Bridge Street Brewery, Two Olives, La Kouzina and my daughters favourite, Rocomamas.
If you could leave young and aspirational rugby players with one message, what would it be?
"Never lose your ambition. Never stop believing in yourself."
If you had to describe the Bay to someone who has never visited, what would you say?
"It is a relaxed city, not crowded, in which you can enjoy your family life. It has a beautiful beachfront, and are surrounded by picturesque coastal towns."
A few last quick questions:
Bush or beach? Beach.
Sunrise or sunset? Sunset.
Road trip or flight? Road trip.
Elephant or dolphin? Dolphin.
Braai or fine-dining? Braai.
Museum or art gallery? Art Gallery.
Summer or winter? Summer.
Featured Posts
24 June 2019 | Anje Rautenbach

Are you looking for a bit of luxury, style and panache when it comes to travelling? While…

17 June 2019 | Eleanor Douglas-Meyers

With the school holidays and winter in full swing, the phrase; "I'm so bored" is likely to…

12 September 2018 | Anje Rautenbach

September is one busy month; it's the start of spring, there's rugby and also heritage…