An Instameet, a Collab and Tips from SA's Top Instagrammers
25 May 2016 | By Anje Rautenbach
Nelson Mandela Bay Tourism will host another Instameet in the city of Port Elizabeth after the successful meet-up from April that showcased Freedom Day in the Bay at South End Museum.
The Instameet, a collaboration between Nelson Mandela Bay Tourism and Colours of You SA, will take over Bird Street in true Friendly City spirit on Saturday the 28th of May at 3pm and young, old, families, students, artists, photographers, wanderers and anyone interested to see what exactly goes on at an Instameet will be welcomed with open arms and a dash of colour.

What we've learnt from the previous Instameets and by going through the #ShareTheBay, #MyNelsonMandelaBay, #CityofPE, or #PortElizabeth hashtags is that the Bay's photographic talent, enthusiasm and natural beauty is a force to be reckoned with and with collaborative accounts like @cityofpe and @igersportelizabeth there is just no end to what is on offer in the Bay. If you want to scroll in awe of aerial images have a look at what @deancothill is doing, follow @dameon for some incredible abstracts, watch out for @abo_explores and @solsticesnaps's striking portraits, visit the account of @el.herve for unique sunset shots, join @the9thsky for cloud porn and if you are after minimalism look no further than @kickpushkgosi.
The list goes on and on.
We have talent. And a lot of it. Whether that talent has 100 followers or 100 000 followers, each photo speaks of Nelson Mandela Bay in a unique way and each photo adds value to the whole concept of #ShareTheBay.

Instagram Tips from some of South Africa's Leading Instagrammers
With all the excitement of Instameets in the Bay there is no better time than the present to share some Instagram insights.
Nowadays Instagram tips are floating around all over the internet; this one is saying no to that filter and that one is saying yes to something else, so we thought we would double-tap on the screens of some of South Africa's Top Instagrammers from Cape Town to Johannesburg to Durban who are making waves in the digital world of photography and ask them, "what is your Instagram tip".
They jumped on board immediately and this is what they had to say:

Andy Carrie
Andy Carrie is a digital content creator, creative mind and a photographer from Durban with over 21 000 followers on Instagram.
"When it comes to Instagram there is no quick fix. But there are a couple of things to keep in mind. Firstly, look at the people you follow, that one travel account, the sunset account, we all know the accounts I am talking about. They all have something in common. They have a story, a theme. That's why you follow them right? Choose your story, your theme. If you love taking pictures of people then make that your thing. When people choose to follow you it is because they have bought into your story!

Secondly, tell that story well and consistently. The greatest thing about Instagram is that it is all about community. When I first started taking photos on my iPhone I wanted to know the apps that the other Instagrammers were using to edit their photos. I asked and they showed me. Find your own unique style of editing (that's if you are going to edit your photos). Make sure your photos are straight, I encourage you to use your grid when snapping photos on your phone. For example, if you are shooting the sunset, make sure that the grid on your phone lines up with the horizon.

Lastly, research the rule of thirds. It will help a lot.
Kyle Mijlof
Kyle is a freelance photographer from Cape Town and a world traveller who has collected stamps from 56 countries since 2010. He has more than 39 000 followers on Instagram.
An Instagram Tip from @mijlof:
At the end of the day it comes down to style so that people identify with your account's look and feel, secondly be unique, find a way that best describes your work and be true to it. Don't follow the trends. Lastly, remember that the time you post also plays a big role, post at a time when people are most active."
Heather Mason
Heather Mason is an American blogger and photographer living in Johannesburg with more than 63 000 followers on Instagram.
An Instagram Tip from @2summers:
"Try not to get hung up on follower or like totals. Instagram followers are notoriously fickle and Instagram is in the midst of changing its algorithms which we as users have no control over. Post what you love - what makes you happy - and try not to worry about how many people like or comment. Otherwise you will drive yourself crazy."
Heinrich Knoetze
Capetonion, Heinrich Knoetze, is a photographer, designer and a creative junkie with close to 35 000 followers on Instagram.
"Always look at your last 12 images as a whole. Make sure all your images flow into one another and carry an ongoing theme. When people come to look at your gallery this is the first thing they will always see. Those last 12".
Instagram Tips from some of Nelson Mandela Bay's Instagrammers
Marion Marais' tip...
"Edit to enhance the image you've taken, but don't make it so saturated or contrasted that it isn't recognisable. If your feed is about an abstract view, do it. But if you're focusing on sharing the beauty of the city you live in, try to capture the feeling in the angle of your shot, or your point of focus, and don't over edit."
Follow Marion at @marionmarais on Instagram.
Shawn Marsh's tip...
"Be creative. Try to get a subject in your pictures to create more of an appeal. It's something small, but has a huge effect."
Follow Shawn at @marshyphotography on Instagram.
Gabriella Groepe's tip...
"It all comes down to consistency, relevance and innovation. Consistency is key, posting on a regular basis, keeping up with the latest hashtags and making sure you tag the relevant people. Never be afraid to diversify your feed. Explore concepts."
Follow Gabrielle at @diaryofluna on Instagram.

3 Instagram Apps You Need to Download Now!
Snapseed - A photo editing app that enables users to enhance photos and apply filters.

VSCO - An advanced editing app that you use to shoot and edit your images with superior mobile presets and advanced camera controls.
Hyperlapse - An app helping you to take time-lapse videos that will even stabilise shaky material.
​
​Quick Instagram Tips in the Name of Hashtags and Numbers
Fill out your profile completely; add a bio, photo and link to website/blog if you have one.
If you want more followers do not make your profile private.
Be relevant with your hashtags instead of stringing random thoughts together.
Don't forget to caption your photos.
Know when to add a location (never add the location of a photo of an endangered animal).
Take the photo with your eyes before you take the photo with your phone.
Give and take - engage, comment and like, be an active user to get some Instalove in return.
Whatever you do, whatever you snap, make sure you enjoy the moment.

Nelson Mandela Bay Tourism and Colours of You SA - An Instameet Collaboration
We have saved the best for last...an introduction of the collaboration between Nelson Mandela Bay Tourism and Colours of You SA!
If you are not familiar with the community of local Port Elizabethans who goes by the name of Colours of You SA then just know this: they are colourful, hip and showing off the Bay in all its glory!
Colours of You SA started out as an exhibition curated by Gerard Addison along with a few local artists in Port Elizabeth, and in a short time has developed into a platform where all forms of art are used as a way to communicate the distinct vibrancy and energy around South Africans. The main goal of Colours of You SA is to encourage people to proudly embrace their unique colours, laugh, smile and connect with our diverse cultures. Through this platform Colours of You SA seeks to promote both artistic talent and all things South African (people, culture and unity) by bringing people together through art & design.
Now, who doesn't want to collab with that?


Bird Street Instameet Details - A Day in May in the Bay
Date: Saturday, 28 May 2016.
Time: 3:00pm.
Place: 36 Bird Street, in front of the ArtEC building.
What to bring: Yourself, a friend (imaginery or real), a stranger, your camera, phone, a prop or two or just your sense of wanderlust.
What to expect: Surprises and some prizes.
What hashtags to use: In order to stand a chance to win with Nelson Mandela Bay Tourism hashtag your Bird Street photos with #ShareTheBay, #ColoursofYouSA and #MyNelsonMandelaBay.
See you there!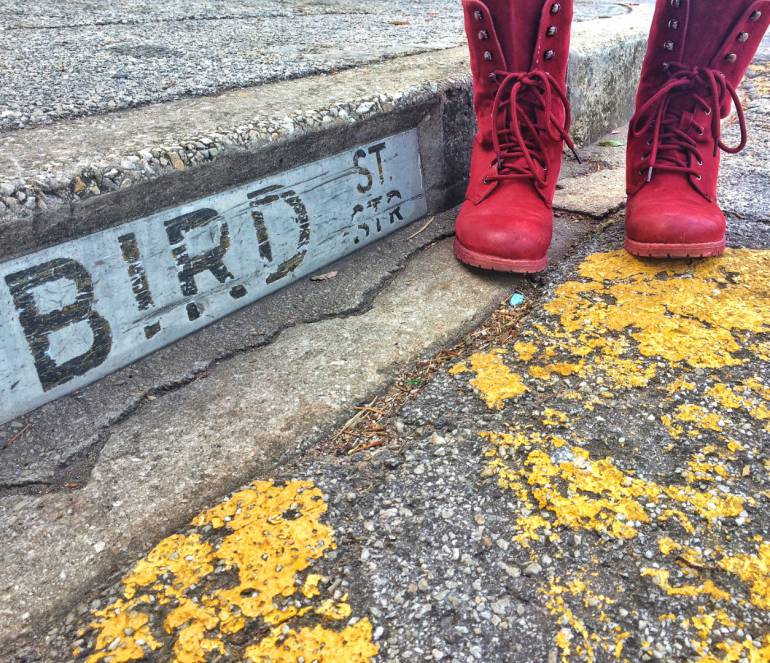 Written by Anje Rautenbach, travel blogger at Going Somewhere Slowly. Follow her journeys around South Africa on Facebook, Twitter and Instagram.
Featured Posts
24 June 2019 | Anje Rautenbach

Are you looking for a bit of luxury, style and panache when it comes to travelling? While…

17 June 2019 | Eleanor Douglas-Meyers

With the school holidays and winter in full swing, the phrase; "I'm so bored" is likely to…

12 September 2018 | Anje Rautenbach

September is one busy month; it's the start of spring, there's rugby and also heritage…