Monumental women of Port Elizabeth
25 August 2014 | By Jonker Fourie
Nelson Mandela Bay has had many noteworthy women come from the city. People such as struggle heroes Florence Matomela, Lily Diedricks and Frances Baard, Dora Nginza (after whom a hospital was named), and singers Zolani Mahola (of FreshlyGround) and Amanda Strydom, to name only a few. Over the past few years many women have stepped to the fore in politics and business as well. We've had a female mayor, female captains of industry and currently Nelson Mandela Bay Tourism is headed up by a female. August is Women's Month (shouldn't every day be Women's Day?) and in celebration of this very special month I decided to do a post not about actual women in the city, but rather "monuments" to women in the city. I selected three prominent ones that are seen by thousands of locals and tourists every day.
The Donkin Memorial (Pyramid)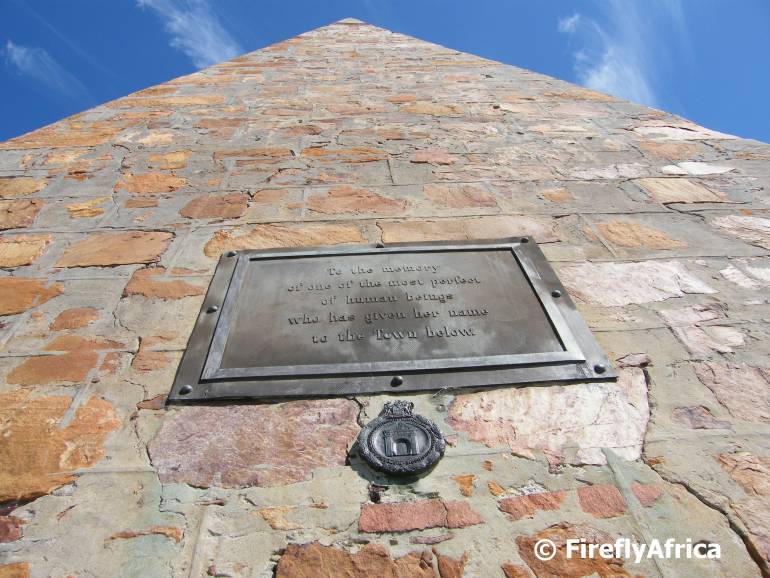 Back in 1820 the acting governor of the Cape Colony, Sir Rufane Donkin, came to Algoa Bay to oversee the landing of the British Settlers. Upon arrival he found a beautiful bay and surrounding area with a small town (if you could even call it a town back then) along the shore. The town had no name and Sir Rufane had no hesitation to name it after his late wife, Lady Elizabeth Donkin. Lady Elizabeth died to fever shortly after child birth in India just before Sir Rufane was sent to the Cape Colony and he found something as beautiful as his wife to name after her. He also went up onto the hill where the Donkin Reserve is today and declared it an open space while commissioning a local builder to build a pyramid as a monument to Elizabeth.
The plaque on the Donkin Memorial reads:
To the memory
of one of the most perfect
of human beings
who has given her name
to the Town below
Port Elizabeth got its name not for some political reason, but for love. Or in this case, a love lost.
Queen Victoria statue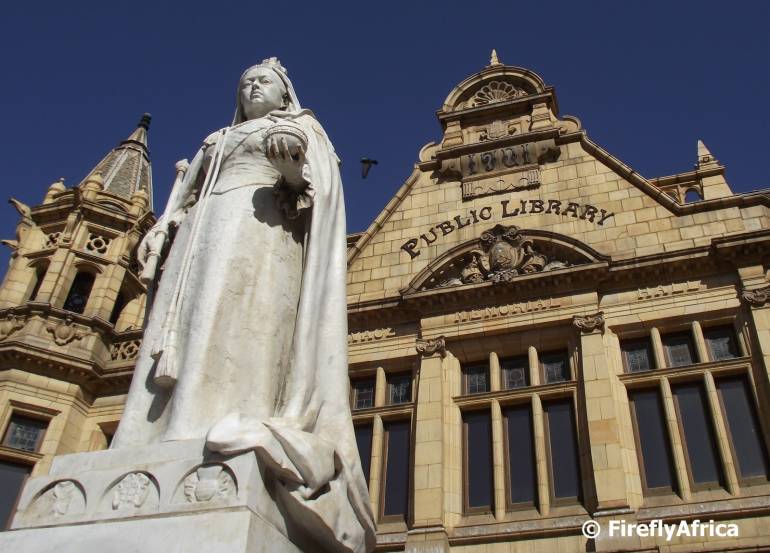 Queen Victoria statue, by FireflyAfrica
One of Port Elizabeth's best-known historic landmarks is the Public Library with the statue of Queen Victoria in front of it. The statue of Queen Vic was unveiled by the mayor of Port Elizabeth, JC Kemsley, on 30 September 1903. It was carved from Sicilian marble by Edward Roscoe Mullins of London to commemorate the Queen's Diamond Jubilee, which took place in 1897, and was paid for by public subscription. The first site preferred was in front of the City Hall but the present site was chosen after it was suggested by the Guild of Loyal Women. Standing in front of the library, the statue looked down the then Jetty Street to the main entrance to town, and was supposed to welcome new arrivals to Port Elizabeth.
Anton Momberg's Untitled Conversation Piece on Route 67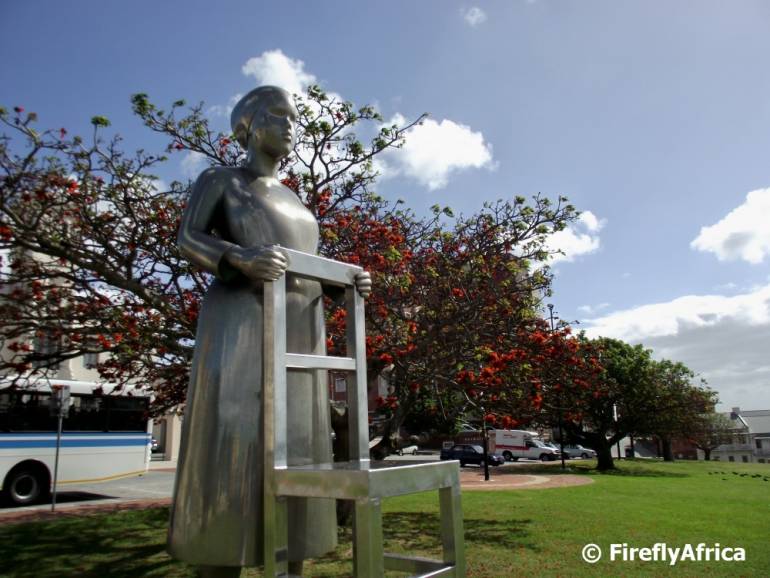 One of the art pieces installed on the Donkin Reserve as part of Route 67 is a woman standing behind a chair. It's become quite a popular piece, with visitors climbing onto the chair for a photograph with this strange-looking woman. But why do I say strange? This untitled sculpture by Anton Momberg takes the form of a female figure without any distinct features and clothing. This leaves her neutral and open for conversation and interpretation, rather than being a conceptionally specific piece. To me it also represents the women of Nelson Mandela Bay, right from the early Khoi women who mined salt at Bethelsdorp, the Settler women who arrived on ships with their families in 1820, and Xhosa women whose men fought in the Frontier Wars to modern businesswomen, domestic workers in the kitchens, mothers, sisters and daughters.
Featured Posts
24 June 2019 | Anje Rautenbach

Are you looking for a bit of luxury, style and panache when it comes to travelling? While…

17 June 2019 | Eleanor Douglas-Meyers

With the school holidays and winter in full swing, the phrase; "I'm so bored" is likely to…

12 September 2018 | Anje Rautenbach

September is one busy month; it's the start of spring, there's rugby and also heritage…