67 Sites, 67 Steps, 67 Years
13 July 2016 | By Anje Rautenbach
Fifteen years ago the Nelson Mandela Bay Metropolitan Municipality was formed as an administrative area covering Port Elizabeth, the neighbouring towns of Uitenhage and Despatch and the surrounding agricultural areas. The name was chosen to honour former President Nelson Mandela, the father of our nation.
Madiba's kind-hearted spirit and the integral role he played in shaping our country's history formed a global movement which inspired change. Today - 3 years after Nelson Mandela's death – his memory still lives on in in our hearts, our stories, our words and our future.
But in Nelson Mandela Bay, his memory also lives on in our streets through 67 public art works (by local Eastern Cape artists) which symbolise the 67 years he has dedicated to the freedom of South Africa.


Route 67
Route 67 – a route that combines art, culture and heritage – starts at the Campanile Monument and goes through the city centre, past churches, along stairs, to the giant flag at the top of a hill often called: the balcony of the Bay. At Donkin Reserve, the top of the hill, a colourful mosaic floor greets your feet with "Windward" sculptural benches representing the nautical history and the "River Memory", "Welcome Carpet" as well as a special garden. From the Donkin the walk continues through more historic parts of the city, to the Nelson Mandela Metropolitan Art Museum.

Route 67 portrays the dawn of South Africa's democracy through art, landscaping and colourful mosaic messages as it takes you through the important moments that led to our first democratic elections of 1994.
Through striking images, heritage sculptures, artwork big and small, you get the chance to walk back through a bygone, but not forgotten, time.
Through cast iron figures you realise the changes since 1994, the growth and the hope.
Through standing between Madiba and those who were shackled you get a glimpse of our nation, you scratch the surface and discover a hint of an idea of the walk to freedom.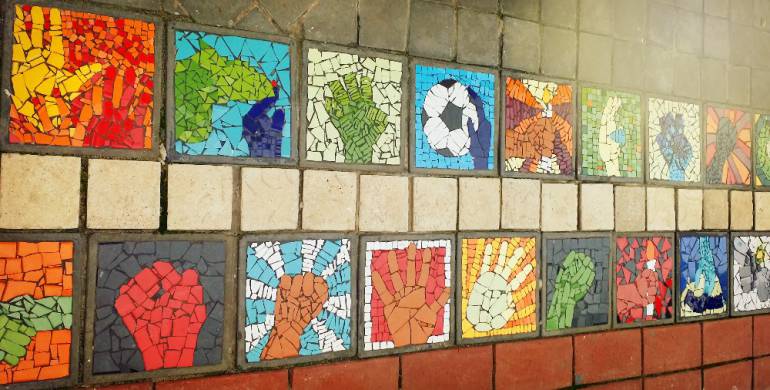 Don't forget: You can use your Nelson Mandela Bay Pass to experience a Route 67 Walking Tour.
Nelson Mandela Day – 18 July
On Monday we celebrate yet another Nelson Mandela Day, a day dedicated to inspire change after one man inspired the whole world.
"The time is always right to do right" - Nelson Mandela.
Want to know more about the annual Nelson Mandela Day?
"Nelson Mandela International Day was launched in recognition of Nelson Mandela's birthday on 18 July, 2009 via unanimous decision of the UN General Assembly.

It was inspired by a call Nelson Mandela made a year earlier, for the next generation to take on the burden of leadership in addressing the world's social injustices when he said that "it is in your hands now".

It is more than a celebration of Madiba's life and legacy. It is a global movement to honour his life's work and act to change the world for the better." - www.mandeladay.com
More Wisdom from Madiba
"Education is the most powerful weapon which you can use to change the world.
"For to be free is not merely to cast off one's chains, but to live in a way that respects and enhances the freedom of others."
"Do not judge me by my successes, judge me by how many times I fell down and got back up again."
"What counts in life is not the mere fact that we have lived. It is what difference we have made to the lives of others that will determine the significance of the life we lead."
"Our children are our greatest treasure. They are our future. Those who abuse them tear at the fabric of our society and weaken our nation."
"For to be free is not merely to cast off one's chains, but to live in a way that respects and enhances the freedom of others."
"It always seems impossible until it's done."
"If you talk to a man in a language he understands, that goes to his head. If you talk to him in his language, that goes to his heart. "
Featured Posts
24 June 2019 | Anje Rautenbach

Are you looking for a bit of luxury, style and panache when it comes to travelling? While…

17 June 2019 | Eleanor Douglas-Meyers

With the school holidays and winter in full swing, the phrase; "I'm so bored" is likely to…

12 September 2018 | Anje Rautenbach

September is one busy month; it's the start of spring, there's rugby and also heritage…