A pyramid at the foot of Africa and how a city got her name
17 June 2014 | By Lynnette Johns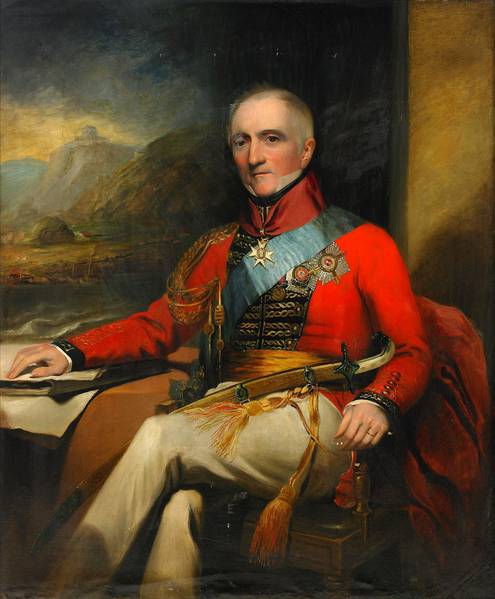 Sir Rufane Donkin, bereft after the untimely death of his young wife, Elizabeth, honoured her by naming the landing area for the British settlers of 1820 Port Elizabeth, and commissioning a pyramid in her memory.
Donkin never recovered from his Elizabeth's death in 1818, and committed suicide on May 1, 1841, on what would have been their 26th wedding anniversary. Born into a military family, Donkin was himself a distinguished officer who served in the West Indies, Denmark, the Netherlands, Portugal (against Napoleon) and India. He rose through the ranks quickly: he was a captain at 20, a major three years later and a lieutenant-colonel by only 25. For his military service he was knighted, in the Knight Commander class of the Most Honourable Order of the Bath.
Donkin and Elizabeth were married in 1815, and the couple left for India shortly thereafter. Tragedy struck less than three years later. Elizabeth gave birth to their son, George David, in December 1817, but she never fully recovered from the birth and died of a fever in August 1818.
A distraught Donkin had his wife's heart embalmed, which he took with him when he and George left India for England, shortly after Elizabeth was buried. Donkin would eventually be buried with her heart.
He and his infant son came to the Cape after Elizabeth's burial (Donkin was on extended sick leave). He was on his way back to Britain when he was asked to be acting Governor of the Cape, a role he took on between 1820 and 1821. His main responsibility was to oversee the landing of the 1820 settlers at Algoa Bay, which he renamed for his beloved.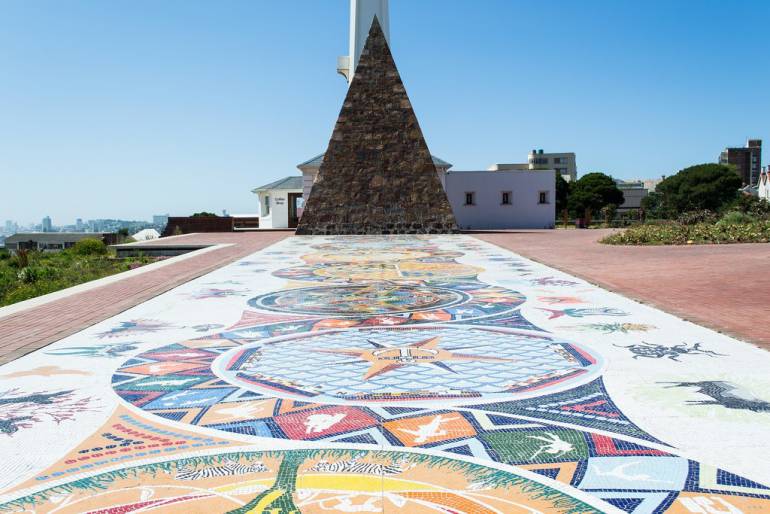 He not only named the town Port Elizabeth, he commissioned the stone pyramid on a hill overlooking the ocean. Inscribed on the pyramid is a poignant message: "To the memory of one of the most perfect of human beings, who has given her name to the town below."
A lighthouse was built next to the pyramid in 1861, and the pyramid was declared a national monument In 1938.
In 1821, he was promoted to the rank of lieutenant-general, became a member of the British parliament and was made a member of the Royal Guelphic Order, in the Knight Grand Cross (GCH) class.
Even though he remarried, he never recovered from Elizabeth's death, and committed suicide on 1 May 1841. He was buried with her embalmed heart.
The Donkin Reserve is an integral part of Port Elizabeth, it is not only an iconic attraction, but is also where Route 67 ends. It is also home to the biggest South African flag in the world.
Route 67 forms part the greater Nelson Mandela Bay Arts Journey, which includes a number of art galleries, museums and public works of art.
The lighthouse is home to the Nelson Mandela Bay Tourism office. You can do a tour of the lighthouse, on request at the tourism office, between 8am and 4.30pm on weekdays and between 9.30 and 3.30pm on Saturdays.
Featured Posts
24 June 2019 | Anje Rautenbach

Are you looking for a bit of luxury, style and panache when it comes to travelling? While…

17 June 2019 | Eleanor Douglas-Meyers

With the school holidays and winter in full swing, the phrase; "I'm so bored" is likely to…

12 September 2018 | Anje Rautenbach

September is one busy month; it's the start of spring, there's rugby and also heritage…