Explore these 5 Mountain Biking Trails in the Bay
31 October 2018 | By Anje Rautenbach
Nelson Mandela Bay offers unlimited opportunities for adventure and mountain biking is a growing phenomenon; whether you are young and still rocking those training wheels or slightly older and turning your four wheels in for two leg-powered ones, mountain biking is a sport that can be enjoyed by the whole family.
Summer is here so why not fill up your water bottle, put on some sunscreen, get into your stretchy pants and cycle these 5 Mountain Biking Trails in and around Port Elizabeth?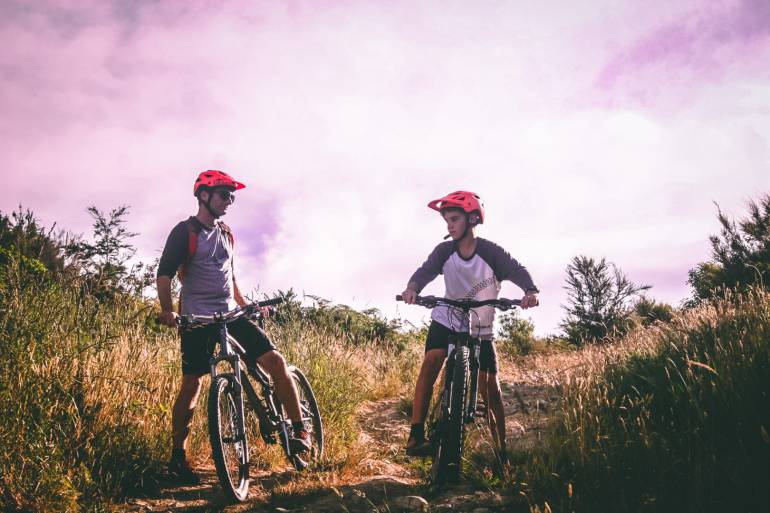 Conti Loop - Baakens Valley
Baakens Valley is filled with many mountain bike trails which zigzags across the valley all the way down to Bridge Street Brewery where a cold one awaits. While the majority of the trails are technical single-tracks, shorter and flatter routes are also possible and you can easily join other trails in the valley as well if you want to do more. The Conti Loop is great for intermediate riders and thoroughly enjoyed by all age groups; enjoy the greenery, indigenous bird life and watch out for the "Killer Downhill".
Where: Walmer Downs, parking lot outside Cyclo Pro at Green Fattracks Containers.
Trail distance: 5.33 km
Cost: No cost but why not become a member of the Fattracks Club? Fattracks is the oldest mountain biking club in South Africa and has developed (and is still maintaining) more than 270 km of MTB trails in and around Nelson Mandela Bay.
Port Elizabeth Golf Course
Whether you are still new to mountain biking or already have a longstanding relationship with the saddle, the PGCE trail is great for beginners and die-hards and the easy access and central location makes it not only a great family ride, but also gives you the opportunity to have a quick jump on the bike before work, or after work. The 4km track around the Golf course is mostly non-technical single-track and relatively flat.And, if you are still looking for more after that you can play golf at Port Elizabeth Gofl Club, one of the top 100 golf courses (and second oldest) in South Africa.
Where: PE Golf Club Parking Lot.
Trail distance: 4.45 km.
Cost: Free for Premium members, all others R20 per day fee into the Honesty Box.
Fattracks Baywest Trails
Make this a family day and bring the kids, the gran and friends along this short trail which is perfect for beginners. There is a 12km loop, with shortcuts for a 6km or 9km option and a mix of 10% gravel road, 40% jeep track and 50% single track can be expected with scenic views through bush, fynbos and forest.
Where: Start and finish point at Baywest Mall (Entrance 4).
Trail distance: 12 km (with shortcuts to make it 6 km or 9 km).
Cost: Free for Premium members of Fattracks, otherwise riders can scan the Fat Tracks Zapper QR code and make a donation of R20 to R50 per day per person.
Swartkops MTB Trail
The trail takes about 4 hours and makes its way through the the 850 ha Swartkops Valley Nature Reserve and takes cyclists through a dense valley and bushveld vegetation with a few technical descents and steep climbs as you pass aloes, flamingoes and if you are lucky, a Cape Grysbok or the rare Blue Duiker. Trail is rated moderate to difficult and it is advised to travel in groups. Don't forget the sunscreen and take plenty of water.
Where: Northern bank of the Swartkops River, at the Corobrik Factory (Algoa Brick Factory).
Trail distance: 22 km, circular trail.
Cost: Free entrance.
Hopewell MTB Trail
Hopewell is a 3100 ha nature reserve on the outskirts of Port Elizabeth and conservation icon, Dr Ian Player, once called it the "new wilderness frontier" with its fynbos, roaming game and beautiful landscapes. Mountain bikers are in for a real treat; trails are tailor-made for mountain biking with limited climbing and great for functions and events (trails have to be pre-booked). Accommodation is also available at Hopewell Conservation Estate.
Where: Rietkuil Road, Port Elizabeth.
Trail distance: Trails differ in distance and difficulty and you choose between 7, 20, 35 and 50 km.
Cost: Conversation fee or use your Nelson Mandela Bay Pass Card.
Something for the kids in December!
Join "Pottie's MTB Youth Camp" at Crossways! This camp is from the 7th until 9th of December and aimed at kids ages 9 to 17 (if younger kids that are interested, parents can get in touch). The focus of the camp will be skills and loads of fun; they will camp in tents on the field next to the Crossways Country Kitchen (bicycles will be stored in a safe room and there's also a night security guard).
For cost and more details, click here.
Featured Posts
24 June 2019 | Anje Rautenbach

Are you looking for a bit of luxury, style and panache when it comes to travelling? While…

17 June 2019 | Eleanor Douglas-Meyers

With the school holidays and winter in full swing, the phrase; "I'm so bored" is likely to…

12 September 2018 | Anje Rautenbach

September is one busy month; it's the start of spring, there's rugby and also heritage…