Riding the Waves at Oceanside Surf Store
10 May 2016 | By Sarah Dirsuwei - www.chasingtherainbow.net
Our fabulous 5-in-1 Nelson Mandela Bay Passes were about to expire -we had one activity left and only seven days to do it. No way were we going to let a day of adventure go to waste! A short family discussion and all of us agreed – let's go surfing!
Luckily PE's weather played along and Sunday dawned sunny and still as we piled into the car and headed to Oceanside Surf Store at King's Beach for a morning of fun in the sun.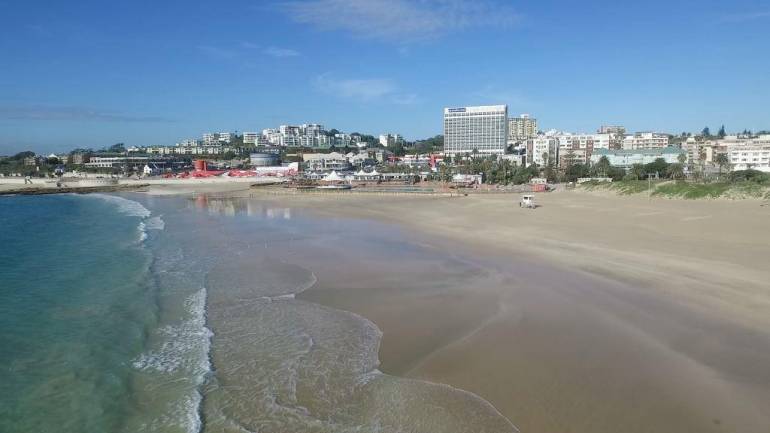 Although we are avid beach lovers, and have lived in the surfing mecca of the Eastern Cape for most of the boys' lives, we have never taken them surfing. Boogie boarding, yes. Body surfing, of course. But never stand up surfing. So we arrived at Oceanside bubbling with a mixture of butterflies and anticipation.
I was still undecided as to whether I would watch or partake. I am that mom that enters the sea one toe at a time, squealing from the cold and taking at least ten minutes to get to shoulder depth. I wear my sunglasses when I swim, with my hair piled on top of my head as I paddle demurely around. Sound familiar?
When we arrived, we were introduced to our very cool coach Dane – I mean aren't all surfer dudes cool? Dane chose us each a wetsuit and before I knew it, I was pouring my body into skin tight neoprene. The end result wasn't half bad. It fitted like a good pair of body shaping underwear!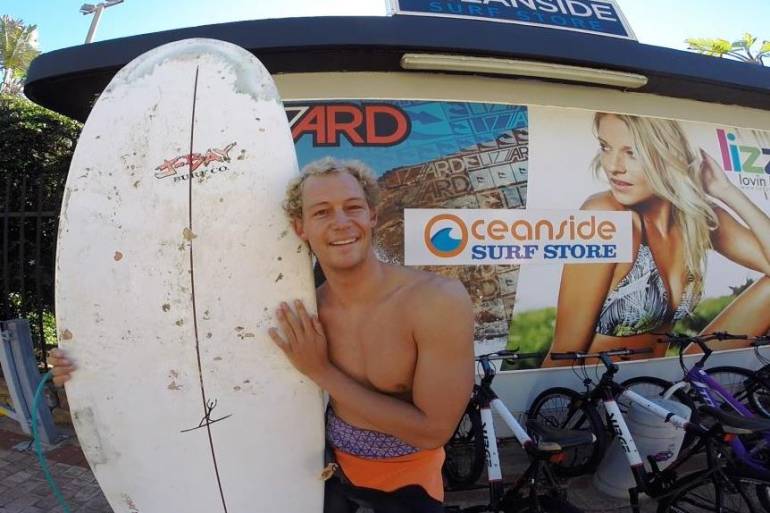 Somehow it was just assumed that I would be joining in, so I went with the flow, feeling quite cool myself as I mooched out of my comfort zone and down to the beach with my sons, all of us carrying our boards and looking totally rad.
The lesson started with a demonstration by Dane of the pop up method on an imaginary board indicated by a line in the sand. We spent a few minutes practising popping up on our lines of sand, and the kids were great. The popping was not working for me, so I instead practised the knee, foot, foot method, which worked a charm.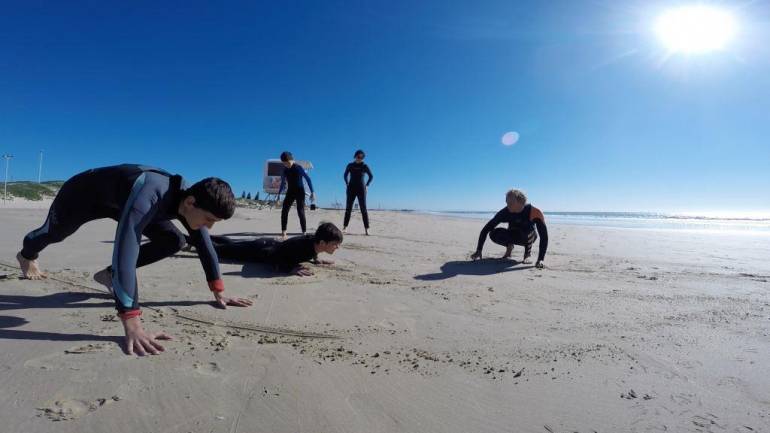 All of a sudden Dane popped up and headed out to sea, trotting in like there was no tomorrow. Oh well, no time for the toe dipping and squealing then. As I trotted straight in after my offspring, I realised for the first time in my life, what a joy it is to wear a wetsuit. What is with the bikinis? Ladies, you have been tricked. Less is not more! This neoprene miracle suit keeps you warm, buoyant, and slim looking, all at the same time.
While I was soaking in the joys of my surfer chick outfit, my boys were already catching waves. Dane helped with the timing – giving us all a shove at the right moment, so we could focus on trying to stand up. The feeling of riding a wave was so incredibly exhilarating, that I forgot all about the popping, kneeling and standing, and just clung on to the board laughing out loud while I rode the "foamy" to shore.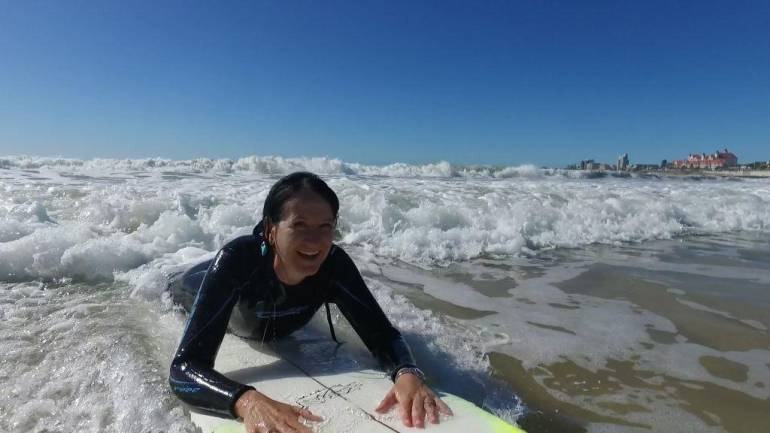 Legs were flying, boards were tumbling and the air was filled with the joyful sound of laughter, shrieking and whooping. Every now and then, someone managed to stay on and stand up – first Luke, then Cian and then Jacob. I was so proud of my boys, and none of us could contain the thrill of their achievement – even Dane was cheering his head off!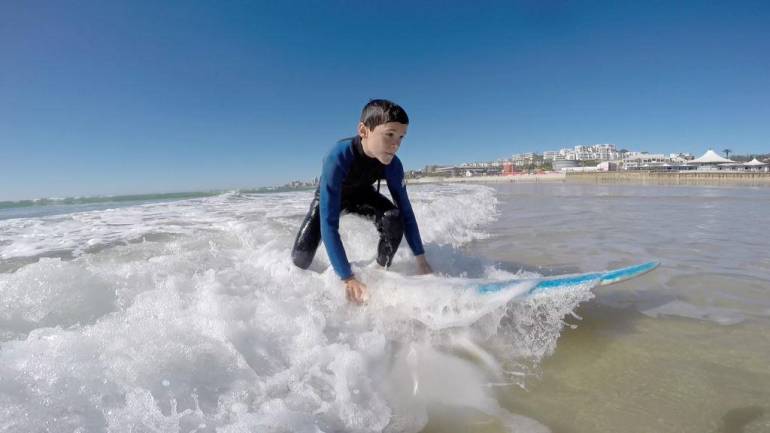 We kept going back for more and more, and the waves kept coming. A good ride and you want to do it again. A bad ride and you want to try again to do it better. The surfing bug had bitten! Our hour evaporated and we giggled our way out of the ocean, reminiscing our surfing moments and making plans to go shopping for surf boards and wetsuits and getting back on the water.
After peeling out of our wetsuits, and returning our boards, we ended off our amazing morning by cycling along the promenade and watching an enormous pod of wild dolphins frolicking in the sea. Once again, one of those moments when you swell with pride to live in such a beautiful place.
The surf lessons and bike rental were covered by the Nelson Mandela Bay Pass – your ticket to adventure in Nelson Mandela Bay!
About the Author:
Meet the Dirsuwei family - dreamer dad Ralph, bright mom Sarah, fishing-mad Jacob, social-teen Luke and cool-kid Cian. Follow us as we spread positivity about our beautiful country and explore the world, inspiring family travel.
Featured Posts
24 June 2019 | Anje Rautenbach

Are you looking for a bit of luxury, style and panache when it comes to travelling? While…

17 June 2019 | Eleanor Douglas-Meyers

With the school holidays and winter in full swing, the phrase; "I'm so bored" is likely to…

12 September 2018 | Anje Rautenbach

September is one busy month; it's the start of spring, there's rugby and also heritage…