Port Elizabeth's most famous statue: the Horse Memorial
16 January 2015 | By Christine Marot. Images by Tara Turkington
Port Elizabeth is home to South Africa's Horse Memorial, an impressive life-size bronze statue built to honour the thousands of horses that lost their lives in active duty during South Africa's three-year-long Second Boer War.
The memorial, a provincial heritage site, comprises life-size bronze figures of a horse and kneeling soldier holding a drinking bucket. The bronze stands on an inscribed stone plinth and its base forms a water trough.
The inscription reads: "The greatness of a nation consists not so much in the number of its people or the extent of its territory, as in the extent and justice of its compassion."
Designed by Joseph Whitehead and cast in bronze by Thames Dillon Works in Surrey, the memorial was unveiled on 11 February 1905 by the then mayor of Port Elizabeth, Alexander Fettes.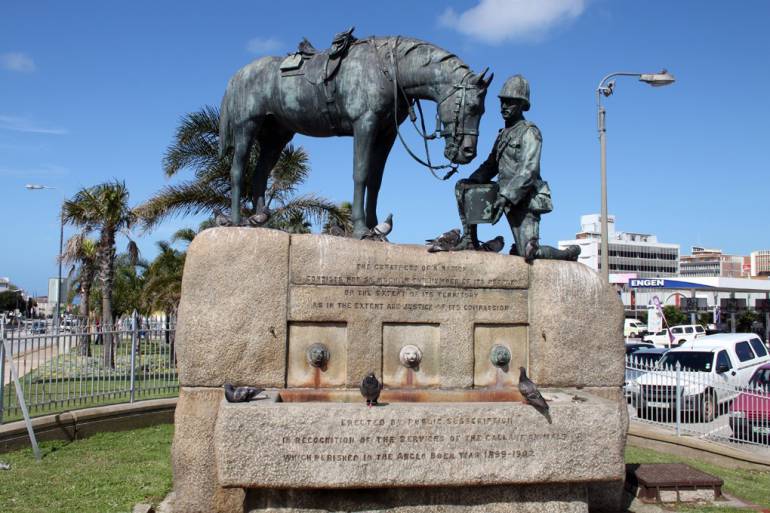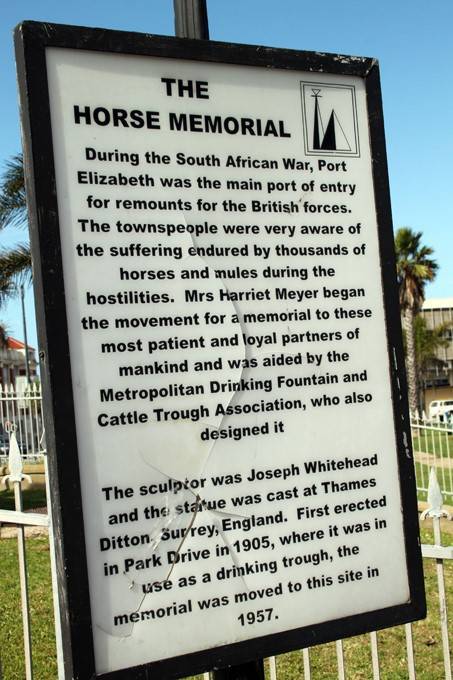 Moved from its original position in Park Drive where it was used as a drinking trough, today the memorial stands in Cape Road, admired by commuters heading into and out of the city.
During the war years Port Elizabeth served as the main port of entry for remounts for the British forces. As a consequence, the townspeople were very aware of the suffering endured by thousands of horses and mules during the hostilities.
Community member Harriet Meyer initiated a drive for the creation of a memorial to the horses, with the support of members of the Metropolitan Drinking Fountain and Cattle Trough Association, who designed it.
Also known as the Anglo-Boer War or South African War, the conflict raged from 11 October 1899 to 31 May 1902 between British forces and those of the South African Republic – a combination of the then Transvaal Republic and Orange Free State.
The war was precipitated by conflicting imperial and republic ideologies, the discovery of gold on the Witwatersrand, tension between political leaders, and the infamous Jameson Raid by the British against Paul Kruger's Transvaal Republic.
Estimates of the day put the loss of Anglo horses at 300 000, at a cost of £7 000 000 to the British. The horses were shipped to South Africa from the United Kingdom, landing in Port Elizabeth from where they were despatched to the front.
British mounts were not the only equine casualties of the war. The South African Boers lost large numbers of their legendary boerperde ("farmer's horses").
The heritage of these horses dates back to 1652, when Jan van Riebeeck arrived in the Cape with Berber-Arabian ponies from Java.
Not many years after Van Riebeek, a ship carrying 14 Arabian horses to Persia ran aground near Cape Town. The horses made it to shore, only to be captured and added to Van Riebeeck's stables.
Around 250 years later, during the South African War, the boerperd contributed to the Boer soldier's international fame as a skilled horseman.
Featured Posts
With an abundance of things to see and do in and around Gqeberha (Port Elizabeth), it is…

24 June 2019 | Anje Rautenbach

Are you looking for a bit of luxury, style and panache when it comes to travelling? While…

17 June 2019 | Eleanor Douglas-Meyers

With the school holidays and winter in full swing, the phrase; "I'm so bored" is likely to…