SAMREC – The Bay's Waddle of Hope
30 March 2016 | By Anje Rautenbach
If you are looking for the ultimate feel good pick-me-up in Port Elizabeth make your way down to Cape Recife Nature Reserve and waddle over to SAMREC, Nelson Mandela Bay's Mother Theresa for marine birds.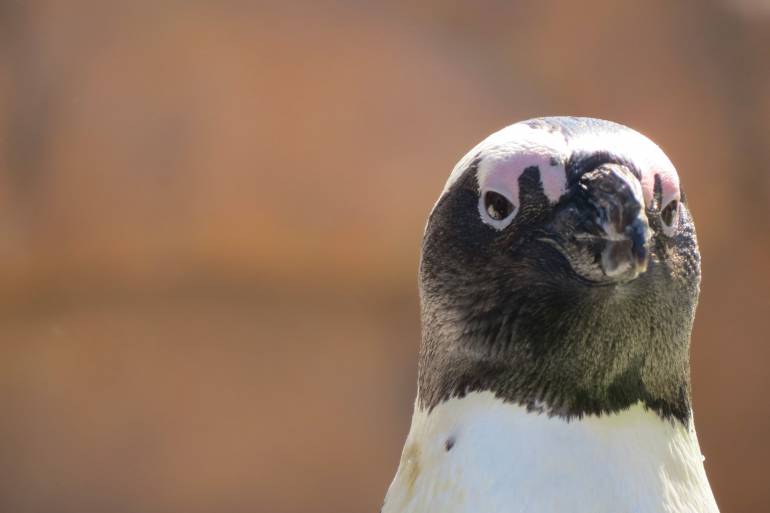 One of SAMREC's permanent residents.
SAMREC – Rehabilitation and Education
SAMREC is a marine rehabilitation and education centre where visitors can get a glimpse into the life of the African Penguin.
Knowledgeable volunteers guide you through the centre with insightful facts and shocking truths. The discovery centre at SAMREC is filled with educational bits and pieces from the ocean; where museums usually warn 'don't touch', SAMREC invites and encourages you to 'please touch'. It is here in the education centre where the reality of the African Penguin's future shouts endangered. It is here in the education centre where you see what happened to St. Croix island in the last decade; how global warming, pollution and commercial overfishing have impacted the African Penguin to such an extent that, in about one decade, the numbers went from an impressive 60 000 to 22 000.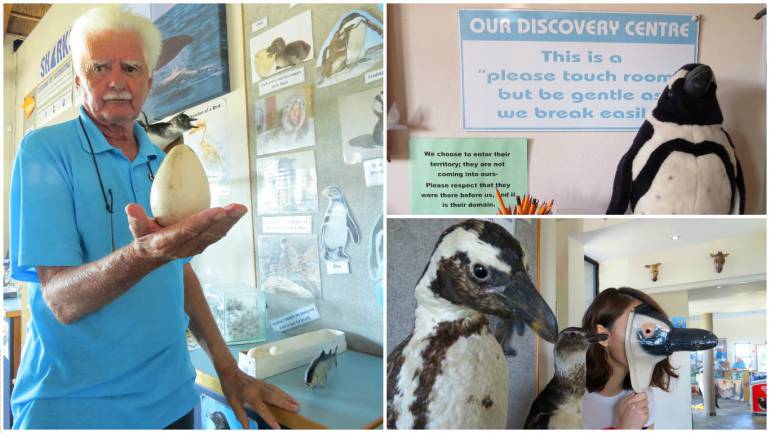 The education centre's insightful facts and shocking truths lead you through the lump in your throat to the ultimate pick-me-up outside where penguins in white and black tuxedos waddle around and blue-eyed Cape Gannets lift their broken wings.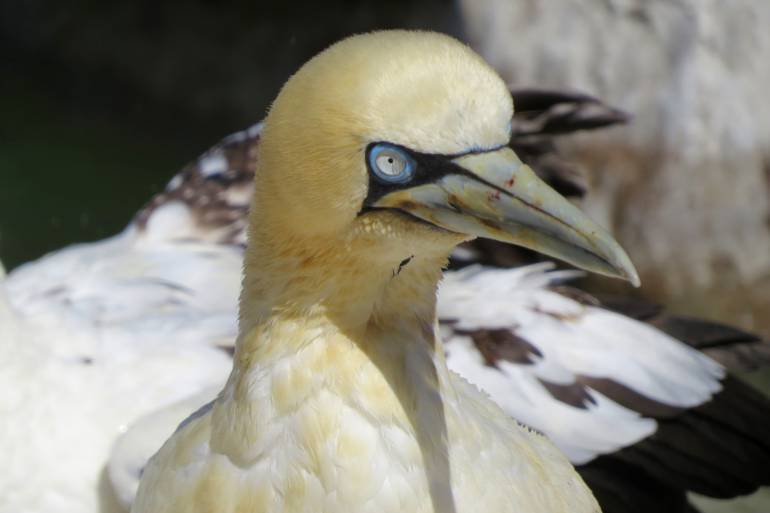 A hunchback penguin bakes in the sun, a few residents propel themselves through the water and others bravely dive; they splash around and flap their flippers. Splish-splash widdle-waddle. Splish-splash widdle-waddle.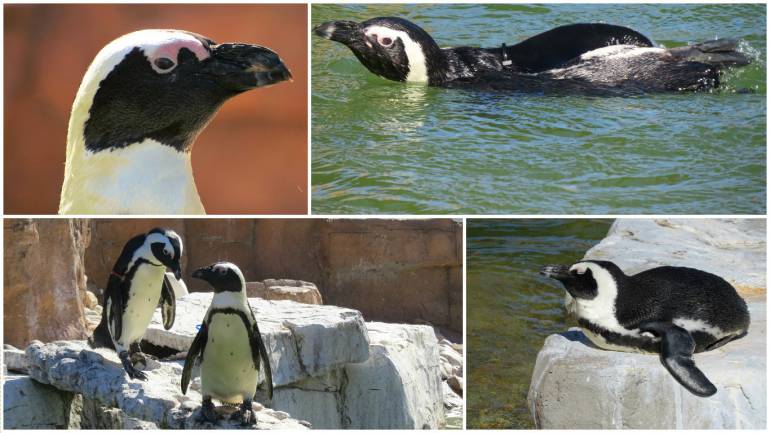 For some penguins SAMREC is home, for others penguins it is a temporary stop before they return home.
SAMREC has released 9 penguins in 2016 already.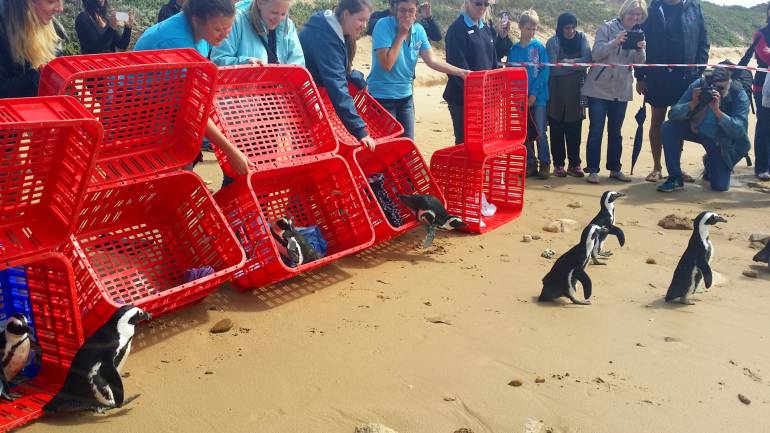 Volunteers from all walks of life offer their time, dedication and expertise.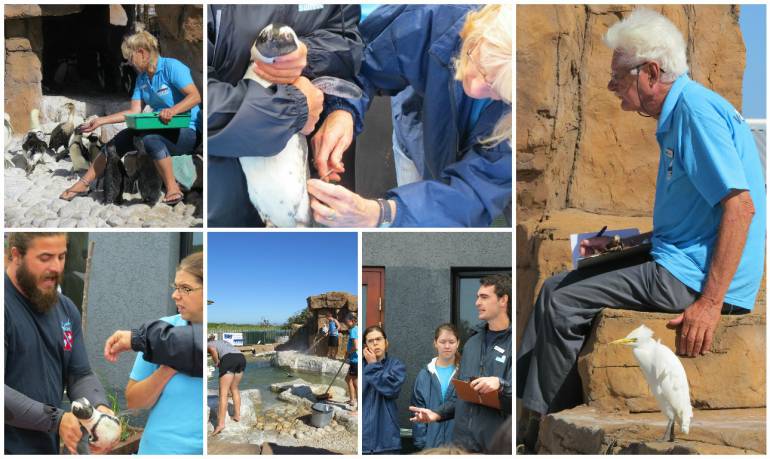 SAMREC is a favourite for many Port Elizabethans. Ocean lovers from all over South Africa and the world have pinned their hometown on the map; marine enthusiasts from near and far have helped, small businesses have donated, schools have made contributions and companies have sponsored.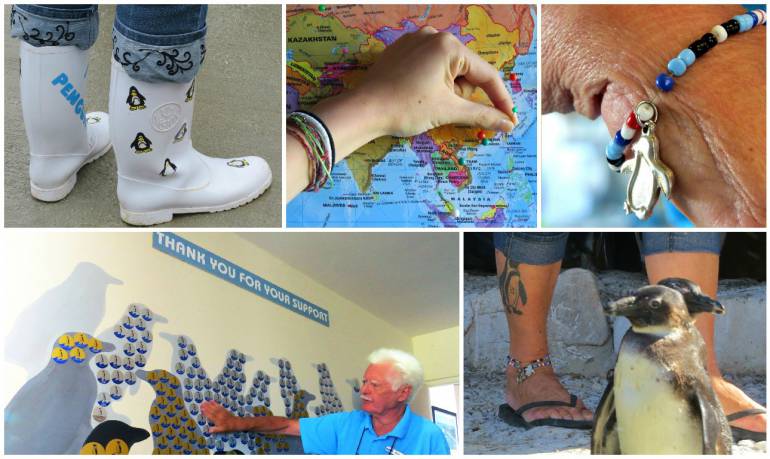 The goal is rehabilitation.
The idea is education.
The concern is the African Penguin.
And the deadline is now.
Because after all the insightful facts and waddling penguins the shocking truth is that the African Penguin is endangered; the shocking truth is that the African Penguin might be extinct by 2025.
A Few Facts
On average, the African Penguin population has declined by 90 birds every week since 1956.
Between 1900-1930 around 13 million eggs were taken from nests because penguin eggs were seen as a delicacy.
In the 19th and 20th centuries guano was extensively harvested as agricultural fertiliser.
Oil ruins penguins' insulation and an oil spot as big as a 5 cent coin will render it helpless. If a penguin swallows oil whilst preening the penguin will get poisoned. If an oiled penguin is not treated it will eventually die of dehydration and starvation.
Penguins are starving due to a lack of food because of commercial overfishing.
You Can Make a Difference
You can support SAMREC by visiting the centre, adopting a penguin, sponsoring food for a day, attending their full moon walks, volunteering, donating and helping them with their wish list.
Every bit helps and every bit counts when it comes to the African Penguin.
SAMREC – The Details
SAMREC is open daily from 09h30 to 15h30 and situated in the Cape Recife Nature Reserve, a few hundred meters from the Pine Lodge Resort. The entrance fee is R30 for adults and R20 for children.

For more details, visit SAMREC at www.samrec.org.za
"It is practically impossible to look at a penguin and feel angry" – Joel Moore.
A group of 15 South African Travel Bloggers adopted a penguin and named her, Pax. Pax means peace, quiet and tranquility. Though the world may not be a peaceful place, the name Pax reflects a hope that there are good times in the future.
To read more about the adoption and the bloggers' combined effort, click here.
This blog post was written by Anje Rautenbach, travel blogger at Going Somewhere Slowly.
Featured Posts
24 June 2019 | Anje Rautenbach

Are you looking for a bit of luxury, style and panache when it comes to travelling? While…

17 June 2019 | Eleanor Douglas-Meyers

With the school holidays and winter in full swing, the phrase; "I'm so bored" is likely to…

12 September 2018 | Anje Rautenbach

September is one busy month; it's the start of spring, there's rugby and also heritage…