In Conversation with Life in PE
28 December 2016 | By Anje Rautenbach
If you live in Nelson Mandela Bay chances are good that you've seen the words "Life in PE" somewhere. But who exactly is Life in PE? How did it come about, what do they do, where do they go and what do they say?
We've dropped in with Life in PE to ask them a few questions about things to do in Nelson Mandela Bay and they've constructed a day filled with their suggestions from dusk till dawn to late night escapades.
Life In PE exists solely as a way to see the world from the view of anyone living in Nelson Mandela Bay. They promote the good (and funny) things about our little city and try to contribute to its growth. They say "It's not a city, it's a lifestyle."
Who can argue with that?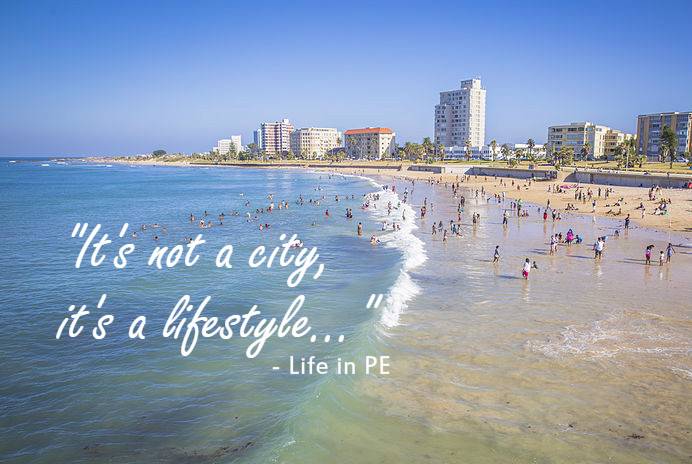 Who is Life in PE?
"Life In PE was birthed by Kgosi Motsepe, a hyperactive creative with too much time on his hands. He was joined later by Marc Hervé, a huge "liker of things."
What is the one thing Life in PE wishes people would realise about Nelson Mandela Bay?
"We wish people would overlook how amazing PE actually is. There are so many things to see, do and laugh at in this lovely city."

Life in PE's Summer Suggestions for a day in the Bay!
Early bird catches the worm; what is your top sunrise spot suggestion for the people of the Bay?
"It's no secret that our weather is erratic at best. So, we'd suggest heading to Kings Beach to catch the sunrise before the weather turns weird."
It's breakfast time, where do you suggest people fill up on the most important meal of the day?
"For breakfast, we'd recommend State 5 on Main Road, Walmer. Their breakfast menu is just insane."
Where to go for a bit of fun in the sun and some sand, sea and a quick swim?
"A favourite spot for a swim has to be Sardinia Bay. It's almost untouched, and it never gets too crowded. Good luck making it up and over that dune after a swim, though!"

Where to go for a quick bite to eat when your stomach growls for lunch?
"There's nothing like a sandwich from Grassroof after a swim. And it's just up the road from Sardinia Bay. It's literally the best place to satisfy a post swim hunger."
If you want to escape the sun, but still have a memorable time, where do you go?
"If you'd rather escape the sun and fancy a bit of shopping, we have a wide variety of malls to cure any addiction to retail. Seriously, we have a lot of malls. A lot."
Sunset o'clock! Best spots to enjoy a sunset?
"The best place to enjoy a sunset has to be, with out a doubt, Schoenies. The Sun is doing magical things."
Dinner is served, where are you seated?
"Your dinner plans are sorted, you have to go to Todos Locos in Richmond Hill. Their food is too good to be true!"
The night is not over, where to go in the Bay for the ultimate night out?
"If there aren't any special events happening at the time, you can always count on Beershack or White Tiger to be lit on any night of the week. It's always a jol."
Life in PE adds a few more suggestions of what not to miss this season!
2017 is around the corner. Say goodbye to 2016 and go out with a bang with these New Years events suggested by Life in PE:
"The last two installments of The Summer Solstice hosted by The Grand and Roof Garden Bar will be happening this week. Otherwise, keep your ear to ground for more sick happenings this season."

For more events over the summer season in Nelson Mandela Bay, have a look at the events page or you can even download the Nelson Mandela Bay app to be in the know of what is going on in Port Elizabeth, Uitenhage, Despatch and the surrounding areas of the Bay.
And if you want to get more bang for your buck in the Bay, get yourself - and the whole family - a Nelson Mandela Bay Pass Card. Remember to hashtag all your experiences with #ShareTheBay on Instagram and Twitter! The whole Bay look forward to seeing your photos!
Where to find Life in PE
You can catch Life in PE on social media:
Featured Posts
24 June 2019 | Anje Rautenbach

Are you looking for a bit of luxury, style and panache when it comes to travelling? While…

17 June 2019 | Eleanor Douglas-Meyers

With the school holidays and winter in full swing, the phrase; "I'm so bored" is likely to…

12 September 2018 | Anje Rautenbach

September is one busy month; it's the start of spring, there's rugby and also heritage…